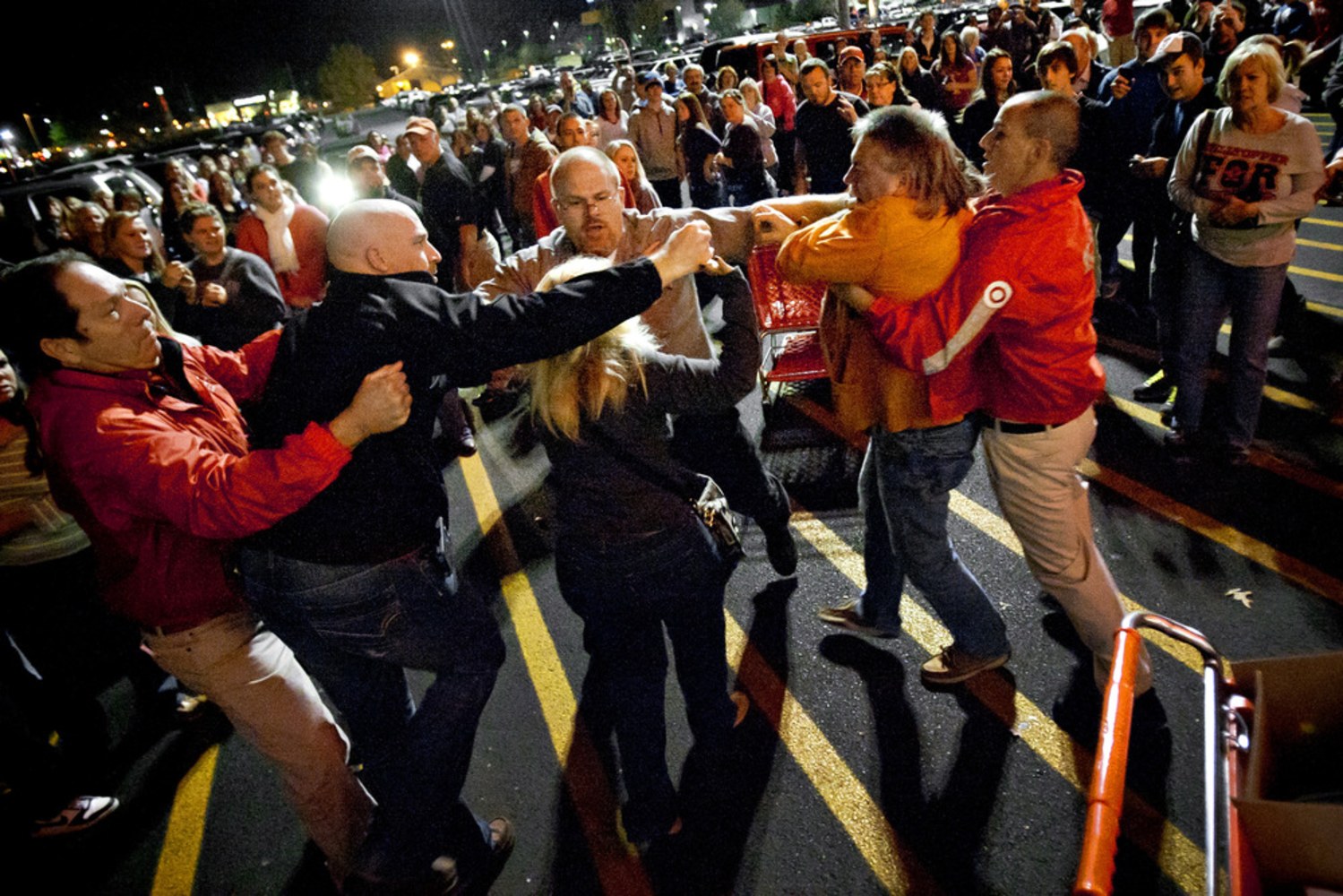 With Black Friday approaching this week, retailers need to prepare for more than just the crowds. Rock bottom prices and swarms of crowds can make for chaotic situations. Too often, dangerous situations arise on Black Friday when people are pushing and shoving and messes are overlooked, and, if this year is anything like the last few, people will be injured or even killed as a result. Sometimes more vulnerable shoppers slip and fall and find themselves trampled by other excited shoppers. Others are injured because of a lack of sleep or delirium involved in the whole process. Here are the five most insane Black Friday injuries people have suffered in recent years.
Black Friday shoppers trample an 11-year-old girl in an Ohio Walmart. The girl was taken to the hospital where she was treated for her injuries then released.
All-night Black Friday shopping ends with a car accident, deaths, and manslaughter charges: a father in San Bruno California was charged with two counts of vehicular manslaughter after causing an accident that killed two of his daughters and injured a police officer. The driver had only slept three hours.
Black Friday shooting results in two deaths at a Toys 'R' Us: In 2008, two men shot each other to death after their female companions engaged in a fist fight at a Toys 'R' Us in Palm Desert, California.
Twenty people, including children, were injured in a Black Friday pepper spray attack: In a Los Angeles Walmart, 20 shoppers were injured when a woman used pepper spray to beat the crowds for massively discounted video game consoles.
Walmart worker killed in 2008 stampede: A Walmart employee was killed on Black Friday when a stampeding crowd of customers.  Over 2,000 people lined up outside the Long Island store for hours before its 5 a.m. opening.  Due to the pressure of the crowd, the store's glass doors shattered, and the mob flooded into the store.  Walmart employee, Jdimytai Damour was caught in the madness, fell to the ground, and trampled.  He was pronounced dead that day at an area hospital.
In the sad case of the last accident, Walmart agreed to pay upwards of $1.5 million to the family of the victim, and the retail giant agreed to adopt better crowd management in stores across the country. Retailers, large or small, are required to properly manage store conditions, regardless of chaotic situations caused by Black Friday deals.
If you are injured during the mayhem of Black Friday, you may be entitled to compensation. The first step is to seek medical attention. Many times, employees at these stores are required to fill out an accident report and call an ambulance to check the victim for any injuries sustained on the premise. However, if you did not leave in an ambulance, do not hesitate to see a doctor. Major medical issues can arise from these types of accidents, and if left untreated, the problems will only be compounded later. Second, hire an experienced personal injury attorney as soon as possible. If there needs to be an investigation about the conditions surrounding your accident, a skilled attorney is the best party to determine exactly what constitutes negligence on the part of the store.
RELATED: Read this before you cook your Thanksgiving Dinner
Without an injury attorney, you are at the mercy of companies that place their profits above your well-being. The Law Firm of Hoskins, Turco, Lloyd & Lloyd has proudly represented thousands of clients throughout South Florida and has the valuable resources needed to secure the maximum compensation allowed by law. Highly qualified and board certified injury attorney Steve Hoskins will personally assess the merits of your case and come up with a strategy for your specific situation. Do not wait to contact our offices, as many claims are time sensitive. Please call (866) 460 – 1990 to schedule a free, no-obligation consultation at one of our four offices in Vero Beach, Fort Pierce, Port St. Lucie, or Okeechobee.