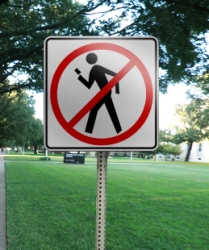 From smacking into light posts to falling down stairs, a new study of emergency rooms shows that texting while walking can be a perilous activity. Everyone seems to understand that texting while driving is highly distractive and dangerous.  Yet, texting while walking is proving to be just as serious.
Sit at an outdoor coffee shop at any given time of day and watch the pedestrian traffic.  Not a minute will pass without your seeing people of all ages texting and walking. We all text when we probably shouldn't.  Maybe it is while we're waiting in line, strolling through the mall, or pushing a cart at the grocery store.  Regardless, this distracted behavior is causing a ten percent rise in accidents involving cell phones.
Common injuries of texting while walking include dislocated shoulders, sprained ankles, broken arms and legs, and even concussions.  An Ohio State University study found the number of pedestrian ER visits for injuries related to cell phones nearly tripled between 2004 and 2014, and the majority of these victims were between the ages of 16 and 25.
When texting, you do not have complete control over the complex actions of walking. Many individuals find themselves bumping into walls, tripping over clutter, or even stepping into traffic.  What's more, distracted texters are not only hazards to themselves, but to other people as well.  Texting while walking quadruples the probability of an individual walking into someone else.  A study by Stony Brook University showed that when people use their cell phones while walking, they were 61 percent more likely to veer off course and 13 percent more likely to overshoot their target.
These statistics suggest pedestrians should keep their eyes off their phones until they reach their destination.  For those unwilling or unable to stop texting while walking, there are mobile applications that text via voice command or one can use his/her phone's camera to display the approaching streetscape.
If you have been injured by a distracted texter, walking or driving, my team and I can help you.  I am a Board Certified Civil Trial Lawyer with over 30 years of experience in helping the injured, proudly serving the people of Port St. Lucie, Vero Beach, Fort Pierce, and Okeechobee.  Call me for a free case analysis and evaluation.
Toll Free: 1-866-460-1990; After Hours: 1-772-359-0342