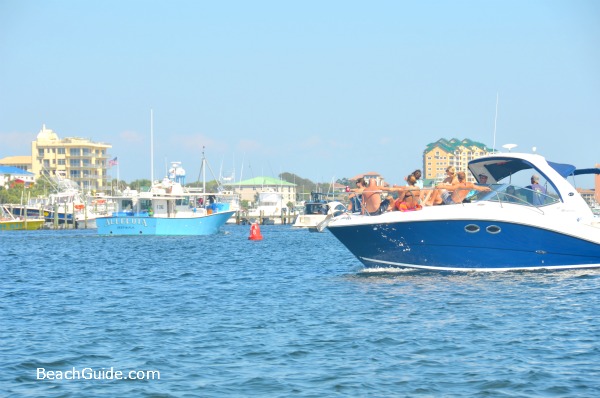 As the days get longer and the weather gets warmer, there will be more boats in the water along the Treasure Coast and in Lake Okeechobee.  More boats in our local waterways may signal the beginning of summer, but they also increase the risk of boating accidents and injuries.  Unfortunately, there are more boating fatalities in Florida than in any other state:  at least once a week, someone dies from a boating accident.  A majority of fatalities are boaters who drown.
Requiring everyone on board to wear a life jacket is still the most important safety device boaters can use to ensure a fun day on the water.  Boaters enjoy the feel of the sun and water spray and often don't want to be burdened with a life jacket;  however, modern life jackets are comfortable and available in a variety of shapes, colors, and sizes. Many are thin and flexible. Some are built into fishing vests or hunter coats. Others remain compact until they hit water when they automatically fill with air.  The U.S. Coast Guard requires boats to have a U.S. Coast Guard-approved Type I, II, III, or V life jacket for each person on board and the jackets must be stored properly and be easily accessible. Children must always wear appropriately sized life jackets.  Annually, test your life jackets for wear and buoyancy and discard waterlogged, faded, or leaky jackets.  Boats 16 feet and over must have at least one Type IV throwable device.
In addition to requiring everyone on board to wear a life jacket, you need other safety devices.  Boaters should be aware of carbon monoxide poisoning.  Install CO alarms inside your boat.  Know where and how CO may accumulate around the boat, always maintain constant fresh air circulation, know where the engine and generator exhaust outlets are and stay away from these areas. Treat symptoms of seasickness as possible CO poisoning. Get the person into fresh air immediately and seek medical attention–unless you're sure it's not CO poisoning. Boats should also have a fire extinguisher and daytime and nighttime distress signals.
Although Florida does not require a boating license, anyone born on or after January 1, 1988, operating a motorboat of 10 horsepower or greater must successfully complete an approved boating safety course and obtain a Boating Safety Education Identification Card issued by the Florida Wildlife Commission.  You should also keep your boat's Certificate of Registration on board.
If an accident happens, Federal law requires that a boat operator or owner file an accident report with his/her state if a boating accident meets certain conditions. The accident must be reported within 10 days if it causes more than $2,000 of damage to the boat or property, or the boat is destroyed. You must report the accident within 48 hours if someone disappears as a result of the accident, is killed, or is injured beyond requiring first aid. Do not assume that your boat is automatically insured under your homeowner's policy.  Call your insurance agent and confirm or obtain coverage.
Carelessness and inattention are the leading causes of boating accidents in Florida. Pay close attention to your surroundings while on the water, and you will be on your way to a safe and enjoyable outing. If, however, you are injured in a boating accident, contact me immediately for a free discussion about your potential case.
Toll Free: 1-866-460-1990;  After Hours:  1-772-359-0342